Pergola landscape design is a unique, excellent and simple structure consisting of wooden columns and beams. At the same time, it can also enhance landscape design and become the main focus of the house. Regardless of size and style, the pergola is suitable for every garden view. The pergola can further enhance the garden view, such as the arches covered by climbing plants and some potted flowers hanging. In addition, the courtyard and pond are designed to fit together to create a better space.
The two most common pergola designs in Malaysia are enclosed flat roofs or open-tops without roofs. The roof pergola design provides a very relaxing and cool space for your garden, while the roofless pergola creates a more natural view of the landscape as it provides maximum sunlight and airflow into the garden. Glass roof is another popular option. It is a hybrid design of a roof or a roofless pergola that maintains an open skyline view concept that provides maximum sunlight while also creating a relaxing space for rain.
Modern pergola is designed with a cross or roof and no walls to provide ventilation. Pergolas is perfect for those who like to relax, dine al fresco or who like to host a barbecue party. Arbores is another option for mini pergola, which provides shade and planting climbing plants, but it has less space than a pergola. Arbores can help you save money because it requires little space and won't even connect to the house.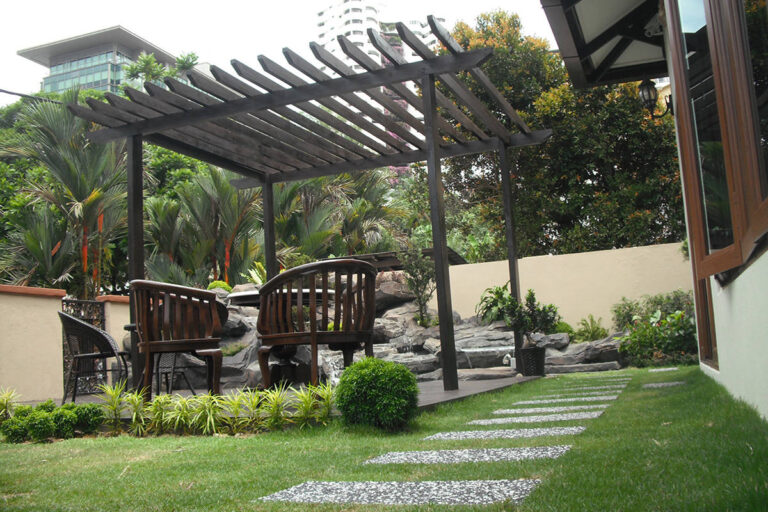 Designing the pergolas roof is simple. First, you must determine how many shades you want. We will add more shades by adding wood with plaid. The beauty of the pergola depends on the choice of wood and the theme of the landscape. Common wood choices are jati, cengal and rubberwood. Cengal is the most popular choice in architecture because of its high quality, stability and durability. Wood cutting can't be ignored, because it's the key to making the pergola unique.
Pergola can be flexibly designed to fit any size and personal preference. It can be constructed in any shape, such as a square, a triangle or a circle. In the case where the space is too small, it can still be connected to a house, such as a side yard. Pergolas enhances the visual effect of the landscape, especially when it is full of flowers. In addition, there are other ways to dress up, for example, to have an all-season fabric drape covering all sides of the pergola for a more beautiful look. Pergolas is different from other outdoor brick and mortar buildings because normal buildings will steal away the greenery. However, pergolas can protect green plants by providing air and light. At the same time, it complements the garden.
We specialize in Kuala Lumpur. For example, KLCC, Cheras, Setapak, Seputeh, Kepong, KLCC, KL Sentral, Bukit Jalil, Bangsar and Putrajaya. In Selangor, we cover Puchong, Subang, Gombak, Rawang, Shah Alam, Cyberjaya, Klang, Damansara, Petaling Jaya and Ampang.
If you have a lot of cane design landscapes available, choose to hire a professional landscape consultant. Let landscape experts give you the most appropriate design based on your current available space, budget and preferences. We do have the experience of guiding our customers to the best landscapes while working within the available budget. You are welcome to check out our website and we also offer other services.