Water Feature Landscaping
Water features in landscape design are often described as having the effect of characteristic, such as fountains and decorative water. In their landscape, the waterscape garden is easily mistaken by others that it can only be built in bungalows, semi-D or commercial units, but now it is also becoming more popular in chain houses or some apartments.
Nowadays, in order to add charm to their homes and have a more peaceful moment in their lifestyle, water features will be a good choice because it provides good visual enjoyment while also providing natural water droplets. In addition, some people have created a water feature in their landscape to take advantage of the FengShui effect of bringing water into their landscape.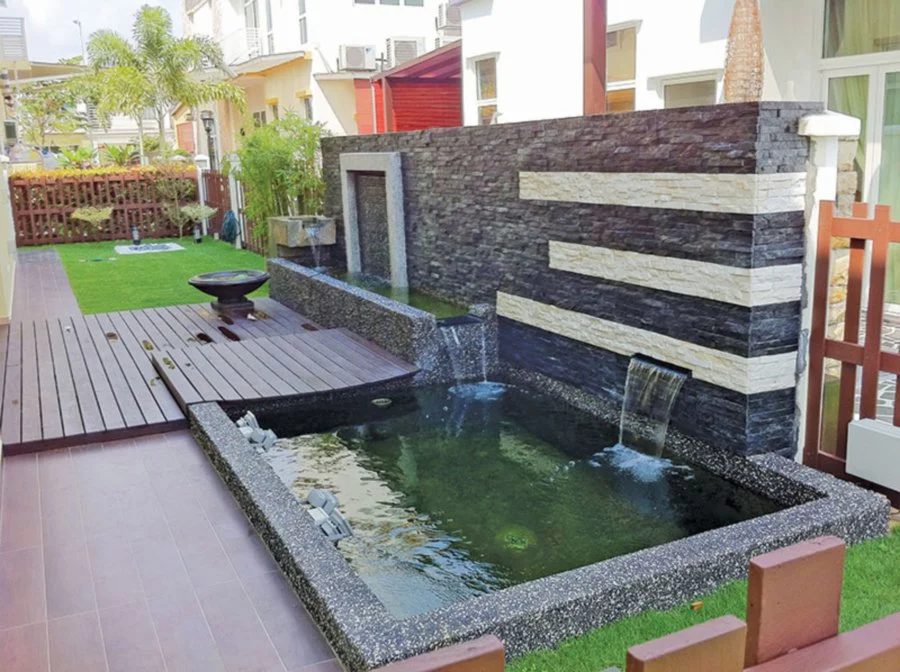 Freestanding fountain. It is a fountain that has water flowing from the top and does not require any excavation. This applies to people who wish to have a smaller water view or a person with a smaller garden, or even an indoor water feature.
Wall-mounted fountain. This type of fountain function highlights or preserves the design of the wall and blends and enhances it. This waterscape has many designs from classic to modern.
Watery rocks. This rocky waterfall style blends in with the pond design, bringing a natural feel to the garden.
Solar fountain. It is a fountain powered by light energy and should therefore be placed in the sun.
We specialize in Kuala Lumpur. For example, KLCC, Cheras, Setapak, Seputeh, Kepong, KLCC, KL Sentral, Bukit Jalil, Bangsar and Putrajaya. In Selangor, we cover Puchong, Subang, Gombak, Rawang, Shah Alam, Cyberjaya, Klang, Damansara, Petaling Jaya and Ampang.
If you are considering using water features in landscaping, you can consult our professional landscaping contractors. We always provide the best waterscape style for your landscape design and provide the most cost effective advice for these landscape designs. Our proposal will also consider your budget. Please don't hesitate any more, just contact us!