Indoor landscaping is actually the art of designing, arranging and caring for living plants in a closed environment. Many people call it the "internal landscape," even if the land is not really remodeled. Indoor landscaping is a suitable term because indoor environments can also include plains, angles, and fields of view, and they are also softened, aggravated, or altered by the addition of plants. Similar to most outdoor landscape programs, interior landscapes also provide decoration, color, sculptural elements, and focus spaces in some way to create an overall pleasant environment. The indoor environment can also have plains, angles and views that can be changed or enhanced later to become a true work of art.
If you've thought about doing minor repairs to your large atrium or lobby, indoor planting and living walls are a good fit for this type of space. Most people are amazed at the reimagination of green plants into a professional space, whether it be residential, hotel, retail, hospital or commercial office. Some people use real plants, while others may use fake plants for indoor landscaping.
In addition to creating beautiful sights, the interior landscape can also provide the benefits of physical and mental health. Plants and trees are important to our ecosystem because they remove carbon dioxide and produce more oxygen for the air. Adding plant landscapes indoors can enhance the quality of indoor air by removing toxins and filtering the air. It turns out that being surrounded by nature helps to reduce stress, increase productivity, and bring happiness to employees. Studies have found that patients in hospital wards that are continuously exposed to the natural environment may recover much faster than those who have not been exposed to natural remedies.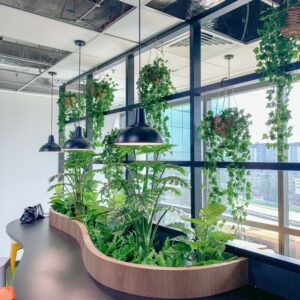 We are one of the landscape contractors in Malaysia with over 35 years of experience. We cover the residential and commercial landscapes of Kuala Lumpur and Selangor. We mainly operate in Selangor, such as Damansara, Petaling Jaya, Shah Alam, Klang, Puchong, Sunway, Kota Damansara, Rawang, Ampang, Gombak and Sri Kembangan. Now we have extended our business to Negeri Sembilan and Johor.
Please consult our landscape contractor experts today to help you and advise you, providing the best indoor view, transforming the unused interior space in your yard into a beautifully designed leisure space.