Wall or Vertical Layout Landscaping
Vertical Space Landscaping means that instead of the plants growing on the floor, it is being grown on vertical layout. It is mainly being applied on commercial buildings such as complexes. Thus, it can be the greenery highlights of the building indoor as well as outdoor. Besides, vertical wall landscaping could be done with artificial plants and grass as well as with real plants such as creepers plant on the wall or wiring string hanging on the wall.
Challenges of Artificial Plants on Vertical Space or Walls
Some commercial building such as hotels and convention centre wants to build a greenery concept. In order to achieve this with real shrubs and plants, it is a major challenge. Because, how do you maintain a uniformed growth on the hanging plants. Certain areas rarely receive sunlight, as it's blocked by a fence or a wall. In addition, watering the plants is also a challenge, as the source of water may be difficult to reach. Maintenance is another aspect as we definitely need to replace dead grass or plants on the wall. If it is not removed, it would look very ugly and one piece of dead plants would spoil the entire façade. Labour cost of having a landscaper to maintain your wall garden would be very costly due to the difficulty of the task as well as frequency.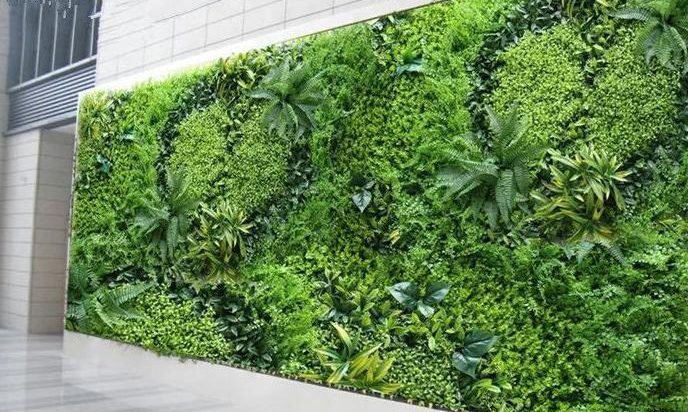 Solutions for Vertical Garden Space
In such scenario, having an artificial grass or fake plants would be the better alternative than live plants. You can consider different types of garden carpet grass material. Firstly, you can choose the shades of colour for your artificial grass on the wall. Secondly, it provides uniformed greenery on your wall, which will last you a long time. Besides that, this is also a low investment landscaping option, because it needs only low maintenance. Lastly, you can determine what kind of concept and designs you want for your commercial vertical spaces. And artificial grass can be customised easily to meet your requirements. Compared to live plants, fake grass and plants is a much easier process.
Hence, if you have any ideas which you want to add greenery on your vertical space, we can certainly help. We are the landscaping specialist, with extensive knowledge on landscaping with artificial grass. We can advise you on which type of grasses to use, and how to maintaining these walls, do check with us.
We have many projects in KL such as Mont Kiara, Bangsar, KLCC, Bukit Jalil, Bukit Tunku, Seputeh, Setapak and Kepong. Whilst in Selangor, we have presence in Cheras, Ampang, Petaling Jaya, Shah Alam, Klang, Sungai Buloh, Seri Kembangan and Semenyih. But we are also expanding across Malaysia, in Johor, Melaka and Penang. You can also check with us, and we can also send our people to help supply and install the artificial grass.