Japanese Landscape Design
Traditional Japanese gardens are designed for peaceful contemplation. They draw heavily on Buddhist, Shinto and Taoist philosophies and strive to provide a spiritual haven for visitors. The primary focus of an Oriental garden is nature. The elements of a Japanese garden mimic or symbolize natural elements. Thus, geometric shapes and artificial stone are not common in Asian landscape design. The more natural and harmonious a garden is, the more conducive it is to contemplation.
Choosing simplistic and natural paving materials for a Japanese garden, including gravel, natural stone and exposed-aggregate concrete.
Good plant selections for a Japanese garden, emphasizing evergreen varieties in various shapes, sizes and textures.
Recommendations for choosing and arranging rocks in a Japanese garden to create artistic focal points.
How to represent water in a Japanese garden by using gravel or sand raked in wave-like patterns.
How to bring the art of Japanese cooking to your garden with an outdoor teppanyaki grill, or flat-iron griddle.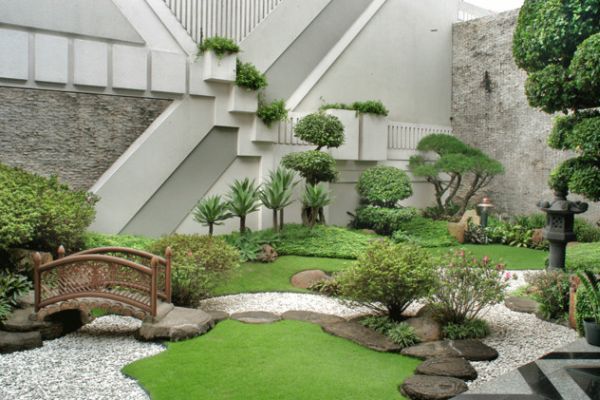 Types of Japanese Landscape Design
We specialize in Kuala Lumpur. For example, KLCC, Cheras, Setapak, Seputeh, Kepong, KLCC, KL Sentral, Bukit Jalil, Bangsar and Putrajaya. In Selangor, we cover Puchong, Subang, Gombak, Rawang, Shah Alam, Cyberjaya, Klang, Damansara, Petaling Jaya and Ampang. Our main office at No.3, Jalan 2/17, Taman Kinrara, 47180 Puchong, Selangor.
The best Japanese garden designs will emphasize the concepts of asymmetry and balance in the use of their essential elements. Our lifestyle gardens offer plant rental, garden conservation and landscape services in the Klang Valley and other areas. Over the years, Lifestyle Garden has transformed many of our offices, bars, clubs, restaurants and homes through our innovative plant displays, which makes us proud. Please feel free to contact us for future details, +(60)3 – 8075 6774.